Founding Partner
"We provide aggressive legal representation and personal service for each of our clients."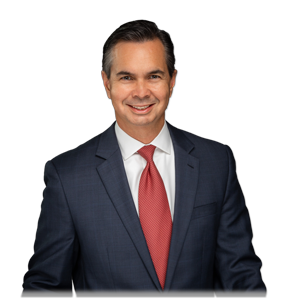 Charles Bell began his legal career as an attorney in the United States Army Judge Advocate General's (JAG) Corps. After serving his country, he continued his litigation career practicing mainly in Broward, Dade, and Palm Beach Counties. Mr. Bell appeared in front of numerous South Florida judges advocating for his clients.
Prior to founding Bell & Bell, Charles litigated complex personal injury cases defending doctors accused of medical malpractice. At Bell & Bell, Charles strictly represents individuals who have been injured through the fault of others. Having represented defendants in the past, Mr. Bell is familiar with arguments for both sides of personal injury cases. This litigation experience allows Charles to provide excellent representation to his injured clients. As an accident lawyer for Bell & Bell, Charles achieved substantial compensation for his personal injury clients.
A member of the Florida Bar, Mr. Bell is admitted to practice before the Florida Supreme Court. Mr. Bell is also a member of the Federal Bar admitted to practice before the U.S. District Court for the Southern District of Florida. In addition, he is a member of the Broward County Bar Association, the Florida Justice Association, and the Greater Pompano Beach Chamber of Commerce. He serves as legal advisor to the Vietnamese American Community of South Florida. He is also President of the Sigma Chi Alumni Chapter of South Florida.
Attorney Charles Bell received numerous awards and achievements throughout his career as a personal injury lawyer in Pompano Beach. Below is more information on Mr. Bell's current professional recognitions:
Million-Dollar Advocates Forum

Mr. Bell is a member of this association, one of the most prestigious groups of trial lawyers in the United States. Membership is limited to lawyers who have obtained jury verdicts or settlements of $1 million or more in a single case. Fewer than 1% of U.S. lawyers are members. The membership includes many of the top trial lawyers in the country. Their practice areas include most areas of litigation, including major personal injury, products liability, malpractice, among others. The common fact is that they each demonstrated, in an objective and tangible way, their ability to accomplish superior results in complex cases. Certification by the Million-Dollar Advocates Forum provides recognition of such accomplishment.
AV Rated by Martindale-Hubbell

Bell achieved an overall 5 out of 5 rating from peers in his profession. For over 130 years, Martindale-Hubbell has provided lawyer ratings based on peer reviews. An AV rating from Martindale-Hubbell means that an attorney earned the highest possible rating for their legal ability and ethical standards. The Martindale-Hubbell Peer Review Ratings are an objective indicator of a lawyer's high ethical standards and professional ability. It is generated from evaluations of attorneys by other members of the bar and the judiciary in the United States and Canada. Martindale-Hubbell surveys lawyers in similar areas of practice as the lawyer being rated and surveys judges. Reviewers are asked to assess their colleagues' general ethical standards and legal ability in a specific area of practice.
Rated "Superb" on AVVO

Avvo is a lawyer rating service that rates attorneys. Ratings are based on background information gathered on each attorney, including disciplinary history, experience, and achievements in their field.
Our accident attorneys in Deerfield Beach offer over 40 years of combined legal experience. When you work with our team, we put in-depth understanding of the law and personal injury litigation to work for your case.
Your Recovery Begins With A Phone Call
Bell & Bell will aggressively pursue compensation for your loss.
Testimonials
Here's what our happy clients had to say about our legal services:
I was helped by Brian after a terrible car accident, and he helped me every step of the way! The staff is super nice and very good with getting back to you, as well as answering any and all questions I had. I was coming out of high school and did not know anything about the legal system so I was beyond blessed that I had this law firm to handle everything . . .
I was involved in a car accident where my vehicle was totaled and I suffered back injuries. I did not know any accident attorneys personally so I turned to google to find Brian Bell. And I am so glad I did. Brian was professional, knowledgeable, and very easy to work with. He was able to settle my case very quickly and I was very pleased with the outcome. He is highly recommended.
Brian Bell is the most thorough attorney I have ever had the pleasure working with. He genuinely cares for all of his clients, and always goes the extra mile. He is quick to respond personally, with any questions or concerns you have. I moved across the state of Florida, and still seek his counsel! He is the only one I would trust to handle any cases for me. HIGHLY recommend.
I have had the honor of being represented by the law firm of Bell & Bell, and coming from a law enforcement background, across multiple agencies, I was duly impressed by the partners' extensive knowledge of the law, their professionalism, but above all, the personal attention everyone at the firm afforded me. I felt like I was their ONLY client. You cannot put a price on that . . .
I have referred family members on multiple occasions to Chuck Bell, and he was extremely helpful in both educating us on the process as well as excellent results. Chuck came highly recommended. My family and I were grateful for his professionalism and skill. I am proud to recommend Bell & Bell for your personal injury questions and assistance!
After my car accident, someone referred me to Bell & Bell. Chuck was great to work with, he was always available to take my calls and took the time to ensure I understood every part of the process. He gave great guidance, I never felt like a number or just another client. Chuck worked efficiently and effectively handling my case and negotiating a settlement . . .